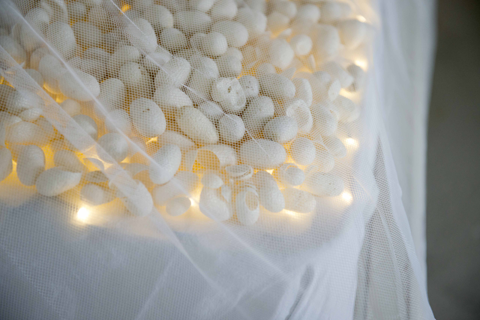 fuse
collaborative installation with Tania De Rozario
"Ghost on the Wire"; Bermondsey Project Space; London, UK. 2014

"In bed, we, like silkworms, curl at night. Insulated from the stresses of the day, we curl. Wrapped in the cocoon of our loves with the company of ... the whole world."- Alexandra Serrenti (2014)
The installation comprises a bedroom/living room space. Ten thousand silkworm cocoons nestle in bed. Crackling sounds of them feeding quietly emanate from bedside drawers filled with human hair. Excerpts from De Rozario's text installation "A Hundred Ways To Say Your Name", flank the bed. On the televison, a single larva makes its unhurried and incessant figure-of-eight journey towards metamorphorsis.
photos by: Tania de Rosario, Lynn Lu, and Camilla Greenwell
* Special thanks to Joanna Tidey.